Latest News and Events
AUTOAIR C2I 2020 Winner: UK 5G Test Bed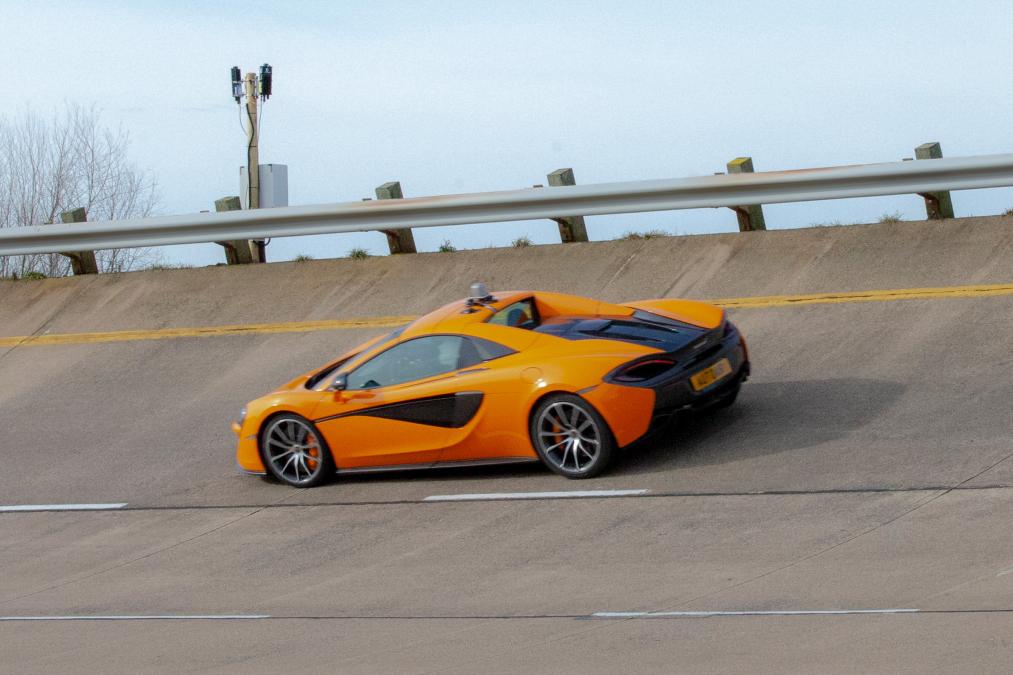 C2I 2020 Winner
Category: Information, Data & Connectivity
Project: AutoAir: UK 5G Test Bed for Connected Autonomous Vehicles (CAVs)
Partners: Dense Air with Millbrook, Blu Wireless Technology, McLaren Applied Technologies, University of Surrey, Quortus, Real Wireless, Celestia Technologies, Telefonica (O2), Atkins. Category Sponsor: Babcock International Group
The AutoAir project hosted at Millbrook Proving Ground has put the UK in pole position in the race to utilise 5G and data on the go – Read more from Jason Fords report here on https://www.theengineer.co.uk/
The facility at Millborook now contains the densest outdoor network of 4G and 5G small cells in Europe and is uniquely positioned give developers access to a low latency, wide-area wireless infrastructure that works seamlessly across the entire site. In practise, the 5G-enabled infrastructure makes it possible to monitor, gather and distribute vehicle test data such as video, telematics, tracking and control in real time for applications including rail, infotainment, cyber security, simulation, network location trials and industrial Internet of Things (IoT).
Led by Dense Air, a UK-based neutral host network operator, the AutoAir project formally launched in February 2019, providing a 5G testbed that gives users a secure, high-speed mobile data network to support the development, testing and validation of connected and autonomous vehicles (CAVs).
"A unique collaboration between telecommunications and transport to establish an extensive hyper dense small cell network at Millbrooks proving ground"
According to Peter Stoker, Chief Engineer, a unique element of AutoAir is its ability to offer a wholesale access, neutral host, hyper-dense small cell deployment model for transport corridors, which provides a single, shared infrastructure across multiple mobile network operators (MNOs). This arrangement would allow the UK's MNOs to share the same physical network if rolled out on the motorway network, for example. Similarly, emergency services, road maintenance firms or vehicle manufacturers would be able to run their own private networks on the same shared infrastructure at a fraction of the cost of deploying their own physical networks.
"This award is confirmation of unique collaboration AutoAir drove between Automotive and Telecommunications industries. The AutoAir network at Millbrook is an environment where we can validate a range of new 4G and 5G use cases from multiple perspectives. It allows us to look at the demands CAVs place onto Public 4G mobile networks today, and research, develop and test the opportunities that Public and Private 5G networks can deliver in future".

Paul Senior, CEO of Dense Air
On the tracks, the 5G testbed has shown also that connectivity of up to 1Gbps is possible between vehicles travelling at high speeds, an advance that takes the AutoAir's capabilities away from roads and onto rails in order to deliver wireless services for train users.
This has been made possible with the world's first 70GHz mmWave network for high-speed transport communications around the high-speed bowl at Millbrook, based on technology from Blu Wireless.
The potential for 5G is staggering: existing 4G systems can service up to 4000 radio frequency-using devices per square kilometre but 5G systems will connect up to one million devices in the same area, thereby increasing the speed of data transfer by a factor of 10 and the volume of data transmitted by a factor of 1000. According to MarketWatch, the 5G technologies that underpin the automotive and smart transportation market are worth $748m and will grow at over 26 per cent between 2020-27.
Read More here: https://www.theengineer.co.uk/c2i-2020-winner-information-data-connectivity/