Latest News and Events
Building more inclusive wireless networks: An interview with Brenna Berman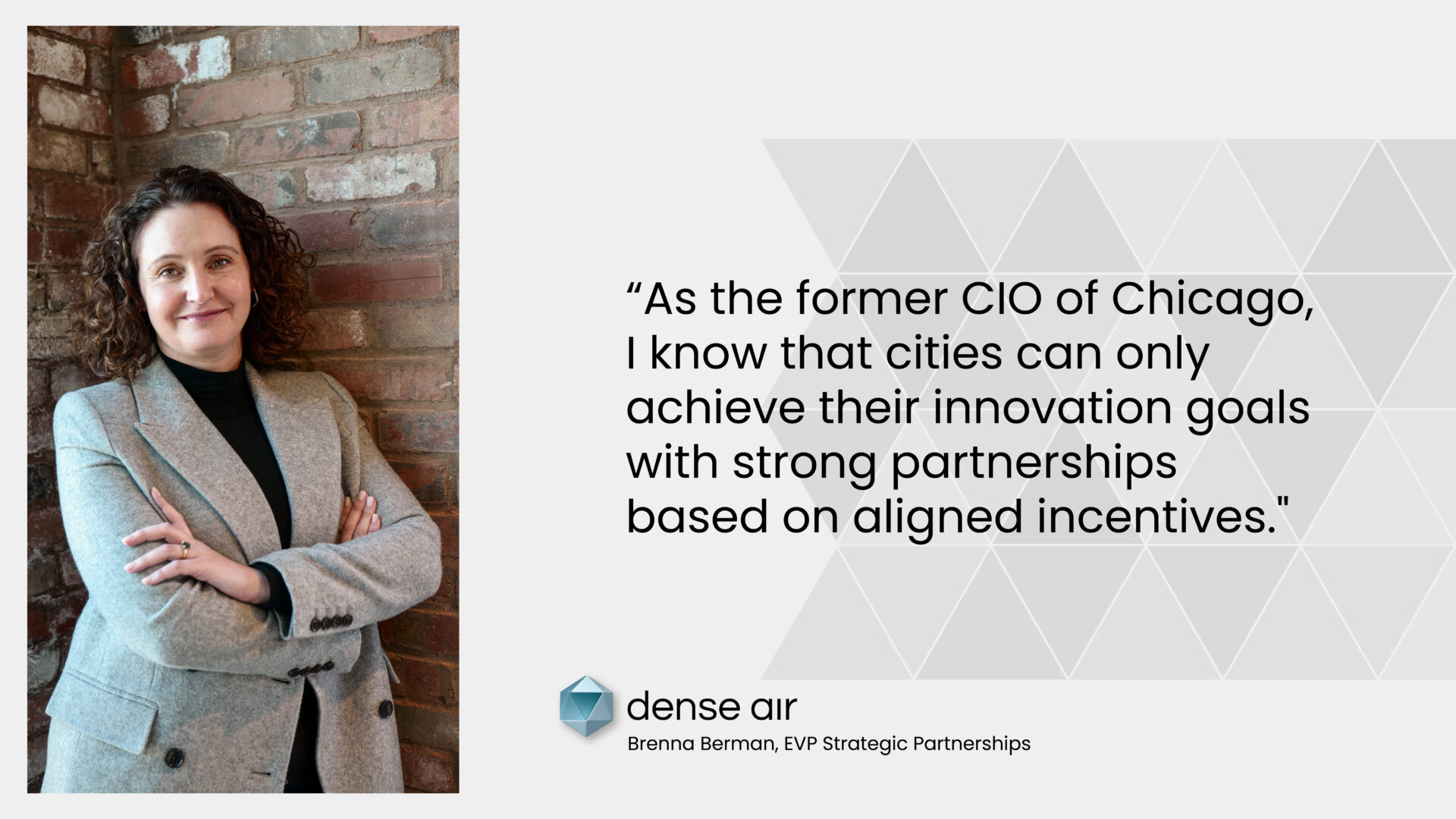 This summer, Dense Air welcomed Brenna Berman, a globally recognized expert on cities, technology, and urban innovation, as our Executive Vice President of Strategic Partnerships. In this role, Brenna brings her public and private sector leadership experience to bear in identifying opportunities for Dense Air to partner with cities and harness our innovative technology to strengthen connectivity for all residents.
We recently sat down with Brenna to discuss her new role, why equitable wireless access is so important, how Dense Air partners with cities to advance digital equity, and more.
Welcome to Dense Air, Brenna! A major reason why you decided to join the company was the opportunity to focus on expanding access to wireless broadband. Can you explain what this means and why it's important?
In today's interconnected world, access to broadband is critical to enabling individuals to work, study, engage with their community, and more. Unfortunately, due to the traditional way that infrastructure has been structured and built, many communities across the country lack equitable access to broadband, including uneven wireless coverage. Without reliable connectivity to digital services, this digital divide exacerbates existing inequalities.
While we can all agree that closing the digital divide is important, the real challenge lies in making it happen. Expanding networks requires significant investments in physical infrastructure, such as fiber optic cables and cellular towers. Geographical remoteness and inadequate funding make it logistically difficult and economically unviable for private providers to extend services to areas that are already underserved, such as rural and low-income communities. And when providers do expand their networks, they pay a high price to build duplicative infrastructure that disrupts city life.
This sounds like a daunting challenge. How can we address it?
It's time — in fact, it's long overdue — for us to fundamentally rethink this system to make digital equity achievable. Through new technologies, strategic funding models, and innovative public-private partnerships, we can support communities in reaching this important goal.
Achieving broadband equity will require a concerted effort from governments, private sector entities, and communities to overcome infrastructure challenges while ensuring affordability. It will not be a quick and easy process, but it will help to bring us closer to having an inclusive and equitable society.
What role does Dense Air play in this effort to advance broadband equity?
Dense Air is uniquely positioned to help communities tackle this critically important challenge because we take a holistic new approach to enabling carriers to expand their wireless networks. Our solution focuses on four main pillars:
We deploy and operate innovative shared network infrastructure, which introduces, for the first time, the unique ability for multiple wireless network operators and private users to utilize the network simultaneously. This decreases the cost of building and managing the wireless networks over time.
We leverage existing physical infrastructure, such as light poles, utility poles, and roofs, to reduce the cost of building the network, to deploy faster, and to reduce disruption to the community.
We use data-driven coverage gap analysis to help us understand where a community lacks coverage today and to build a roadmap for the future. Our denseWare analytics tool evaluates coverage at the call level to help us and communities determine where best to make investments.
We think holistically with our investments, which allows us and our partners to build a balanced business case across entire cities, not just the wealthiest neighborhoods.
How does Dense Air work with cities and other key stakeholders?
Combining technology innovation with strategic funding models is an excellent start to solving cities' network challenges, but it isn't enough. I know from years of experience as the Chief Information Officer of Chicago that cities can only achieve their innovation goals with strong partnerships based on aligned incentives. That's why, at Dense Air, we are focused on creating highly collaborative partnerships with cities as we help them solve intractable challenges. Through these partnerships, we contribute our technology and ingenuity to create new business opportunities. In turn, the cities and communities share infrastructure assets and help us streamline processes to drive down the overall cost and time of network deployment. As a result, communities receive reliable and affordable broadband access, in a shorter timeframe and with less disruption.
Digital equity has been a rallying cry for cities for many years, but today, we have the ideal conditions to achieve the networks of the future that residents deserve. Dense Air is focused on delivering that future, and we look forward to partnering with the cities that share our vision.
---