Latest News and Events
Shared broadband infrastructure to empower Worthing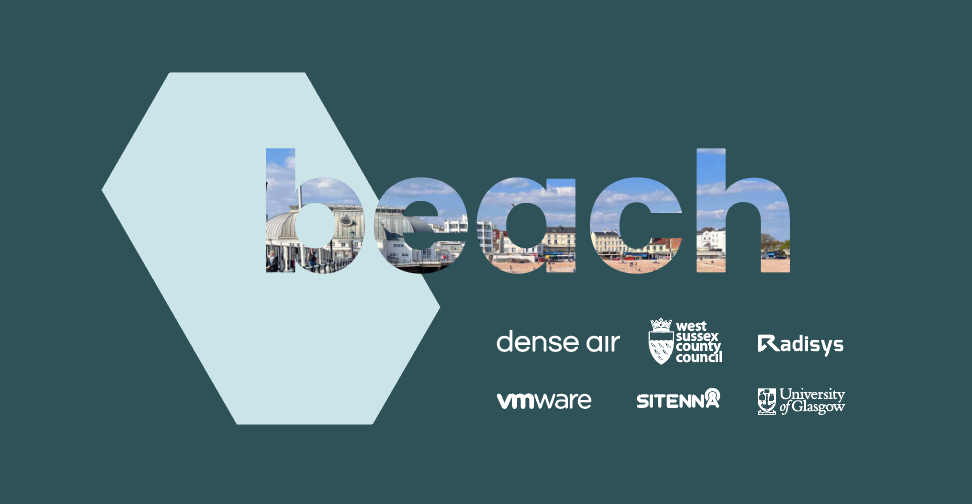 Worthing, a popular seaside town on England's south coast, is a tale of two towns. During public holidays, and particularly throughout the summer months, the town transforms into a thriving tourist hub brimming with visitors – but as school term resumes and crowds thin out, the focus turns back to the residents and the local economy.
This seasonal rollercoaster strains Worthing's mobile network infrastructure, leaving residents, visitors, and enterprises struggling to connect during times of peak demand – a tale becoming ever-more familiar in many towns and urban centers.
Acutely aware of the role connectivity plays in today's society, the UK Department of Science Innovation and Technology (DSIT) today announced the winners of their Open Networks Ecosystem competition – an important initiative to bring together the public and private sectors to solve connectivity and infrastructure challenges.
One of the winners of this competition is the Beach Energy-efficient Accessed Cluster for High-demand (BEACH) Project , an innovative shared 4G/5G shared small cell solution for Worthing. Dense Air is leading this project and working with West Sussex County Council; technology providers Radisys UK, VMware, and Sitenna; and the University of Glasgow; in collaboration with two of the UK's largest mobile network operators (MNOs).
Whether you're in a busy city centre or a rural village, a fast and reliable mobile connection is vital to staying in touch, accessing services and doing business. In order to secure that, we need to embrace a diverse and secure range of technology that will underpin the network. The projects we're backing today with £88 million in Government research and development investment will use innovative Open RAN solutions to make our mobile networks more adaptable and resilient, with future-proofed technology to support bringing lightning-fast connections across the country for many years to come.

Sir John Whittingdale MP, Minister for Data and Digital Infrastructure
Optimized for efficiency, the BEACH Project's low-impact small cells flex capacity based on real-time demand data. Scaled down in the off-season, BEACH ramps up seamlessly when the crowds return. This intelligent load balancing means there is no more wasted energy – a key step toward West Sussex County's goal of carbon neutrality by 2030.
Crucially, the BEACH Project also helps close the digital divide between the residents of Worthing and those of urban areas who enjoy stronger, more reliable mobile service. By sharing network infrastructure costs across multiple carriers and efficiently utilizing the existing gigabit fiber footprint, this project provides Worthing with the wireless mobile connectivity needed for the town to thrive and grow in the 21st century. As demand grows, the BEACH Project's nimble shared architecture can scale to deliver the same high bandwidth that denser metro areas enjoy.
The BEACH Project embodies Dense Air's vision of harnessing innovation to make connectivity more reliable, accessible, and inclusive. Part of Sidewalk Infrastructure Partners' CoFi platform, Dense Air combines open RAN infrastructure with shared spectrum, enabling multiple MNOs to share secure infrastructure. This model helps MNOs augment and improve their proprietary networks, lowers their operating costs, and increases 5G deployment speed.
This project also highlights Dense Air's innovative and flexible approach to creating public-private partnerships that strengthen communities and improve urban life. Close collaboration with the West Sussex County Council and the Worthing Borough Council, along with a series of private sector partners, was instrumental in developing the scalable BEACH network and will be key to its smooth implementation. Locals and visitors will seamlessly experience improvements in their mobile service, while a new mobile app will provide the Council and DSIT with relevant data on network performance to inform future shared network rollouts across the country.
Worthing now serves as a model of how governments, communities, companies, and carriers can join forces to bridge the digital divide with inclusive solutions like shared wireless network infrastructure that expands the reach of 5G. The potential is enormous. But none of it is possible without visionary thinking — and most importantly, visionary partnerships between the public and private sectors. Worthing shows what's possible when all parties work together to find innovative infrastructure solutions to communities' pressing connectivity challenges.
---
A full list of successful projects and more about Beach can be found here.